Chipukeezy blackmailed with compromising photos and video by a blogger
Chipukeezy blackmailed with compromising photos and video by a blogger. "Hello Vinny! First I would like to wish you a happy New Year and again congratulate you for the wonderful proposal," a phone message forwarded to Chipukeezy's phone by a stranger who only gave his name as Bloggers Team read in part.
"I have come across some pictures I would like to share online and I don't know your take on the same. I wanted your permission to go ahead and publish them and if you want I can send them to your review. Please get back to me ASAP," the sms added.
That was just, but the beginning. The 'blogger' did not stop. In fact, what followed was a series of threats, threats pegged on the comedian's 'compromising' photos and videos that he had recorded with "a former friend before he proposed to his fiancée in January". In simple words, he was hinting that the comedian should pay him, or else he would splash the photos on social media.
After the threats came out, Chipukeezy spoke about the semi-nude photos. He said he was aware of them and even added that he had nothing to hide. But now, he wants police to investigate the matter adding that he fears for his life.
"I am not afraid of the content that this fellow is talking about. But when I recall the manner in which I was robbed at gunpoint before thugs stole the phone that had the pictures, I start to think that the motive was bigger than thuggery," he told Pulse.
"Lately, many celebrities have fallen victims to individuals who are out to solicit money from them by trying to blackmail them. We have even had celebrities like Calvo Mistari being a target by a gang that came to rob him at home. Sleepy, the comedian is another victim. I think all these things are being arranged by a group of people who are out to make cash from celebs," he said.
Three years ago, Chipukeezy was robbed of his phone at gunpoint at Westlands, Nairobi.
"That is how I lost the phone alongside other personal belongings. Now, I think this was not just a normal robbery and I fear for my life," he remarked.
A number of celebrities have had their social media accounts hacked into by unknown people who end up blackmailing them by posting incriminating information about the celebs, leaving fans wondering where the problem could be. Others even ask for cash from the unsuspecting celebs' fans claiming they urgently need cash.
We even have others who are able to crack into celebs' phones using special software hence accessing private conversations and other private information after which they ask the celebs to pay them if they do not want the information leaked to the public.
"People work hard to build their brands and earn a living. Then there is this lot that works hard to bring you down. What I have put together for years cannot come down overnight. Whatever this fellow is up to, only God knows," he concluded.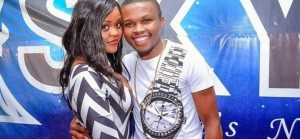 Courtesy Standardmedia