VIDEO: AKOTHEE is never short of controversy. This happened between her and Diamond Platinumz after they shot the 'Give it to me' Video
Akothee is clearly proving one can run before walking as long as they utilize their resources pretty well.
Just a couple of months ago when she burst on the scene, hers seemed to be a stillborn music career. She was just known for her story and her money. However, her master stroke move to get a collaboration with Diamond Platinumz got her prime time and platforms she and many others would never have envisaged.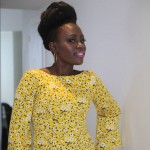 Well she appears bent on continental fame and has gone over to Nigeria and this time collaborating with their soulful celebrity Flavour. She goes pretty ham on the song not in terms of vocals but rather shaking her tiny bust shapely butt. The song is billed as a club banger though I guess it is the video that does the trick here.
It premiered of TRACE TV going on to show just the new grounds she is getting into. Here is the brand new video that an excited Akothee is not about to stop sharing and promoting: