It is over for BABU OWINO after Aden Duale Cracks the Whip on him after He and His Goons Were Busted Beating Up a Man at a Kileleshwa Petrol Station
Babu Owino was recently caught on camera slapping a man said to be his opponent like a petulant toddler after his goons roughed the man up.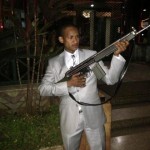 A viral video that has caused anger among many Kenyans who now want the perennial SONU chairman kicked out for being roguish and for overstaying his welcome in UON.
His critics will be happy to know that Aden Duale, has tabled a bill, that will see student leaders stay in office for only one year and will be eligible for only one more is the bill is passed into law. From what i understood it means that someone can only serve as a student leader for 2 years max, unlike Babu who has served in the position for a whopping 6years.
Also if the bill is passed into law, university students will no longer be allowed to elect their leaders directly, it will be done using an electoral colleges system.