WHY TNA nominated Senator Joy Gwendo beat her PA
TNA nominated Senator, Joy Gwendo, has come out to clarify why she physically assaulted her Personal Assistant and threw her out of her office yesterday in a dramatic incident that was captured on camera.
A video of her battering her PA went viral on social media, thrusting her into the eye of a scandalous storm. (If you missed the story, read it here>>>>)
In the video, Gwendo is seen giving her PA a dog's beating and heard shouting at her to leave her office at once.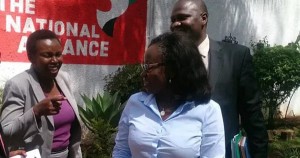 Gwendo is even heard telling her PA to report her to the police or even to the media, saying she is untouchable.
But why the sudden bad blood between the Senator and her long time friend-turned PA?
Well, Gwendo has clarified she beat up her PA and fired her for being a mole.
She said her Secretary attacked her first when she confronted her with allegations of being a mole.
She accused her of leaking her personal secrets to her enemies and the media. Gwendo also accused her of being a thief after she stole her laptop and keys to her office.
"I was with her in Lwak Girls. She was going through a tough time, so I gave her a job as my secretary… now she is doing this," said Gwendo.
"I fired her as she refused to leave, then she became violent. She attacked me after I ordered her out of the office. I was injured during the process," she added.