VERA SIDIKA hurting after she leaves K24 show bruised in a fight with Pendo
Bootylicious socialite, Vera Sidika, has quit the popular Nairobi Diaries that is aired on K24 after she disagreed with the show's producers.
According to Vera, the show has been damaging her brand because she is known to be a diva but is sometimes forced to drop her ego when acting with other wannabe socialites in the weekly show.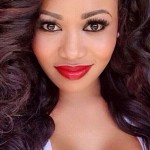 Her fellow cast members, who are wannabee socialites with fake accents, have also been trying to pull her down and that's why struggling socialite, Pendo, picked a fight with her during a shoot.
The show has also been poorly received with many Kenyans taking to social media to lash out at the producers for lacking creativity and that's why she decided to quit.
"It's a wrap, I run this sh*t " and I'm Officially the queen, No Content=No Role. Bye Felecia! Peace" Vera disclosed.
The producers of the show have now been left in a dilemma because Vera Sidika was the reason Kenyans tuned in to watch the show.