RevenueHits Ad codes flagged and banned by Google
RevenueHits is one of the best Google Adsense alternatives. You can use these RevenueHits ad codes in your website if at all you don't have Google Adsense ads live in your site.
I can authoritatively state that Google frowns upon extra ads from other companies like RevenueHits. Certain ad codes from RevenueHits were discovered by Google in my website and Google banned my website.
The RevenueHits Ad codes flagged and banned by Google in my website were the RevenueHits Popups and the Pop-unders.
First, they discontinued their Google ads on my website and displayed a very irritation red banner on my Adsense dashboard stating that ads have been discontinued in one of my three websites.
Secondly, they demoted all my articles in that particular website from their search engine ranking. All articles that were highly ranked in their Google Search results first page were pulled down and cannot now be found even in the tenth page.
Google did not specifically state that they had discovered the RevenueHits ad codes but said my website had violated Google Adsense policies.
I did not at once know what policies I had violated until RevenueHits sent me an email alerting me that there were RevenueHits Ad codes flagged and banned by Google.
The email read as below
Hi,
One of our pop domains might have been flagged by Google by mistake – tags1.eclkspsa.com
While we are working to sort it out, we request you to pull a new pop tag (can be from same client) or change the url manually fromtags1.eclkspsa.com from to eclkmpbn.com.
If you are already using eclkmpbn.com tag then you don't have to change a thing.
Also the problem is not relevant for banners.
We are sorry for the inconvenience and are ready to answer any of your questions regarding this matter.
Thanks for your corporation and patience.
RevenueHits team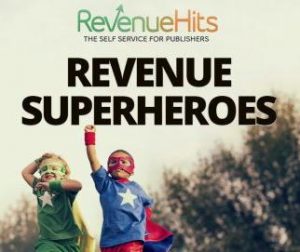 From this experience, I pulled down all RevenueHits Ad codes from all my sites even though RevenueHits had clarified that the above problem would not affect their other Ads like Banners. You never know if Google has flagged your other websites.
So to be on the safe side of Google just use RevenueHits banner ads without the Popups or pop-unders. And most important do not mix your Google ads with RevenueHits ads. Stick to using RevenueHits as an alternative as opposed to a supplement.