Museveni reveals why the 400 billion pipeline cannot pass through Kenya
Uganda's President Yoweri Kaguta Museveni has said that his main reason for refusing to let his oil pipeline pass through Kenya is because of members of the Luo community.
Speaking in Mbale on Thursday, Museveni said members of the Luo community may destroy the Sh 400 billion pipeline in 2017 in case CORD leader, Raila Odinga, is beaten by President Uhuru Kenyatta.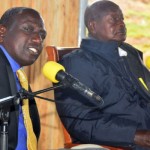 He said he had earlier struck a deal with Kenya over the pipeline but his advisers made him turnaround because of members of the Luo community who may destroy the multi billion project.
"Even when President Uhuru was inviting me to Kenya last week, we had already reached an agreement with Tanzania. Our oil cannot pass through Kenya because of security reasons. If Raila loses the elections in 2017, which I am sure President Uhuru will beat him, Luos will vandalize our pipelines just like they vandalized the railway line in Kibera" said Museveni.
"These Jaruos from Kenya are very mad and we cannot risk investing in Kenya. That is why most of them make a lot of noise and die poor because they don't think development. In fact, even President Uhuru is so patient" Museveni added.