Betty Kyallo sister Mercy confirm Betty Kyallo divorced Dennis Okari
Betty Kyallo sister Mercy confirm Betty Kyallo divorced Dennis Okari and that there were "deep family issues" that divided the family.
She wrote: "Over the last couple of months my sister Betty has gone through her share of struggle, tears and sadness. A lot is being said and there is a lot of speculation. Fact is that there were deep family issues that divided us. Betty, our family is supporting you 100% and our prayer is that you find true happiness and fulfilment."
She went on: "Isn't this life as we know it? just when you think you've got the map, you meet a stop sign which redirects, reorganises and challenges you afresh. It's upto you to keep strong and recharge! We love and care for you honey so do and be the best you can be. C'est la vie."
BREAKING NEWS: KTN's anchor Betty Kyallo has divorced Dennis Okari six months after their wedding.
KTN's anchor, Betty Kyallo has divorced Dennis Okari, six months after their much publicized wedding held at Marula Manor in Karen.
Just less than half a year ago, Dennis Okari showed that Kenyan men are still romantic after he took Betty to some of the best holiday destinations in the world for a vacation after their lavish wedding.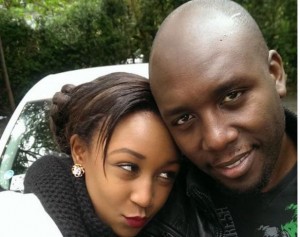 However, their marriage has hit rock bottom six months later and they no longer see each other eye to eye.
According to snoops, Betty has already moved out of their matrimonial home and rented an apartment in one of the leafy suburbs of Nairobi, where she lives with her daughter, Ivanna.
A source revealed to us that the s3xy anchor divorced the popular investigative reporter three months ago because of infidelity and other 'irreconcilable differences'.
Apparently, Dennis Okari, who is nick-named "kadinya" in NTV's newsroom, is a notorious womanizer and his bad history with women is known among his fellow journalists.
When he was dating Betty, she busted him once in a compromising situation with a popular TV host at his house and this nearly ended their affair.
Another source revealed to us that Okari has a baby mama and this is making Betty go mad because they still have strong ties.
In fact, Okari still supports his baby mama financially and this is one of the reasons his marriage with Betty has hit a dead end.