Anne Waiguru instructed events company be paid KSh 44 million for an event that she had cancelled
Embattled former Devolution Cabinet Secretary, Anne Waiguru, is now caught up in another multi-million shillings scandal even before we forget the NYS theft, in which she orchestrated the looting of sh791 million.
This is after one of her former juniors in the Ministry of Devolution linked her directly to the siphoning of sh44 million from Youth Fund.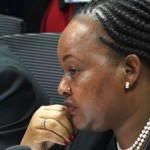 Speaking before the Parliamentary Investment Committee (PIC), Clement Ayungo, a Director at the Youth Enterprise Development Fund (YEDF) board, told MPs that former Cabinet Secretary (CS) Anne Waiguru ordered the payment of an event that was never conducted.
He said Waiguru instructed an events company to be paid Sh 44 million for an event that had already been cancelled.
"Bruce Odhimabo, the YEDF chairman, told me he had received a call from Anne or State House, I can't recall who but it was one of them, and told me to pay for the event which the minister had herself cancelled," Ayungo told PIC.
The committee is investigating the loss of sh 180 million at the Youth Fund.