Abel Mutua Musyoka is a Kenyan actor, screenwriter, Content Creator, comedian, storyteller and co-owner of The Phil-it Productions Ltd.
He is commonly known by his stage name 'Freddie', which he acquired while acting in the Tahidi High TV Show on Citizen TV. Nowadays he has a new sensational name of Mkurugenzi, which he uses to introduce himself in his YouTube Channel shows of Celebrity First Encounters, Stories Of My Life, Young and Stupid and Headline Hitters.
Abel Mutua Life History
Abel Mutua was born in Pumwani Maternity Hospital on August 28 1986. They lived in Umoja 1 Estate from 1986 up to 1991 when his father decided to abandon them.
After 1991, the moved to Kayole estate but later came back to Umoja. They moved to Ministry of Works Government houses in Karanja Road, Kibera in 1997 after his mother got married again to a gentleman called ……..
He says going to live in Kibera was a downgrade in life. His star had started to dim but thanks to a girl called Milkah, his childhood sweetheart, he remained on course.
He lived in Kibera until 2008 when he and his buddy Philip Karanja moved to Pangani Estate after having more disposable income.
In 2012, he moved his young family to a bigger house in Thindigua, Kiambu Road
Abel Mutua Job and Career History
Abel Mutua has worked in the following companies or entities
Tahidi High in Citizen TV and an actor and scriptwriter and Mother in Law as a scriptwriter
This is where he worked until August 2012 when he collapsed in his Thindigua house bathroom due to fatigue, after 36 hours of scripting marathon. While at the hospital, a nurse told him this Gospel truth, "You do some good work out there, but when you die of overwork, we will mourn you for a few days and life will continue very normally and your employer will find an immediate replacement for you." Abel resigned from Royal Media Services a short while after.
The face of TeamUhuru 2013 Presidential Campaigns.
The Uwezo Youth Fund Ambassador under The Office of the President.
Protel Studios as an unpaid host for the K24 TV LOL show, a reporter for Hapa Kule News and Scriptwriter for Real House helps of Kawangware, both in KTN.
Safaricom Blaze and Twaweza.
Phil-it Productions Ltd.
Abel's Love for Film, TV and Acting
When Abel Mutua was 4 years, his dad bought a 'National' black and white TV. Abel became so much accustomed to it that the seed for his love for the screen was planted. He would remember and recite the whole KBC TV programme lineup from Sunday to Saturday. His mum would even boast to her friends about his programme line up memory.
His love for the screen was catapulted to the skies in 1992 when their neighbour, Mr. Ochieng, went to the village for the Christmas holiday and left a Sony 14″ coloured TV with them. That is when that love for TV was sealed.
This love was further catalysed by a trip their class made to the KBC TV studios.
Later on in Kibera, in 1998, Abel met Ishmael Mohammed, of KBC Radio, and Presidential Press Service who rejuvenated his desire for broadcast media and pointed his desire to schooling at Kenya Institute of Mass Communication.
Upon joining Ayany Estate Primary School in 1999, he and his friend Clifford Otieno started reenacting the then famous Redycyulass TV Show belonging to the KU students Walter Mong'are, Tony Njuguna and John Kiarie. This gave Abel early exposure to acting.
Still, in the same school, he collided with a teacher called Mrs Rabut who sustained his thespian fire through a solo verse she wrote for him. This verse gave him, even more, exposure and experience in performance when he went to present it to a wider audience.
When he went to Makueni Boys High School, he helped start the drama club in the school. This gave him the exposure up to the national level in the school drama festivals. This helped him to know a bit of scriptwriting and also stage presence.
After completing his O level education in 2004 he enrolled to Join Kenya Institute of Mass Communication (KIMC) to pursue a Diploma in Film Production. He says he went to learn about his hobby. He majored in Camerawork.
After he joined the institution's drama club, called The Power House, he acted in a play that won at the National Drama competitions. This is where his talent was identified by Citizen TV and he, together with others landed on celebrity roles in the sensational TV drama Tahidi High. There he acted as Freddie.
Education Background
Abel has attended these schools in his life
Umoja Catholic Montessori Nursery School from 1990 – 1992
Unity Primary School in 1993 and 1995
Kayole 1 Primary School in 1994
Eastend Junior Academy, Tena
St Mary's Academy Dohnholm from 1996 – 1998
Ayany Estate Primary School, Kibera from 1999 – 2000
Makueni Boys High School from 2001 – 2004
Kenya Institute of Mass Communication from 2005 – 2008
Abel Mutua Put in a Cell at School
In 2004, in Form Four, while waiting to sit for the KCSE Exams, one student in their class felt that he was not ready to sit for the exams. The only way to make sure that he escapes his fate with the inevitable examiner was to burn down the school dormitory.
While he was at it, his plan was detected and a trap was put for him. The watchman nabbed him on the act.
The school administration, not convinced that he could plan to execute the whole arson alone, hard-pressed that culprit to reveal his co-perpetrators. Abel was maliciously mentioned by the guy as a co-planner.
Abel, being a delinquent from Kibera, Nairobi who never missed suspension from school in any given year, could not convince anyone that he was not part of the plan. His valid alibi could not even be trusted.
He ended up in a cell at the main gate of the school pending further investigations. Luckily, it took the culprits mother to persuade the culprit to recant his statement that Abel was a co-perpetrator. Abel was eventually and unconditionally released from the school cell.
Abel Mutua Age
As of 2021, Abel Mutua is 35 years old
Abel Mutua Wife
Abel Mutua's wife is called Judy Nyawira, a girl born in Kibirigwi, Kirinyaga County. They met while at school in Kenya Institute of Mass Communication (KIMC)
Abel Mutua Father
The biological father to Abel Mutua was from Nakuru County and worked with the ADC – Agricultural Development Corporation. He was rarely in Abel's life for he used to travel alot. He abandoned Abel's family in 1992. He now lives in Delaware USA.
His second dad worked with the Ministry of Health at Afya House, Nairobi. He met Abel's mother while at work in 1997.
Abel Mutua Mother
Abel Mutua's mother is called Stephanie Mumbua, just like Abel's daughter. She worked with the Ministry of Agriculture at Kilimo House, Nairobi. She passed on due to cardiac arrest on October 5 2009, three months before the birth of her first granddaughter.
Abel's Siblings
Abel Mutua has seven siblings, one brother, one half brother, four step brothers and one step sister.
Abel Mutua Daughter
Abel Mutua's daughter is called Stephanie Mumbua. She is named after her grandmother. She was born on January 5 2010.
Phil-it Productions
Abel Mutua is a co-owner of Phil-it Productions together with Philip Karanja. Initially, Dennis Mugo AKA OJ was in the founding group but later decided to do his own stuff.
The idea of forming this production company was mooted around the year 2007 but the actual registration happened in 2015.
Phil-it is coined from the words "feel it". The idea is that the viewers or the audience should feel their productions. Since Philip is a co-owner, the name was changed to 'Phil' then 'it'. When that name, alongside with other two names, were submitted to the Registrar of Companies in Sheria House for consideration, Phil-it emerged the winner. And so 'Phil-it' it was.
Phi-it Productions Ltd started taking shape at the end of 2015 when the Real House helps of Kawangware TV Show on KTN was shinning. They wanted to, instead of crediting the scriptwriter as Abel Mutua, and producer as Philip Karanja, they credit it as Phi-it Productions Ltd. This did not go down well with Protel Studio's management, therefore at the beginning of 2016, they called it quits at that production house.
In 2016, the real work for Phil-it Production started. In February of that year, they shoot a pilot to pitching for their company. That pilot did get any attention from any media house until June 2016 when they got a contract with MNET Maisha Magic to produce the Hullabaloo Estate and Sue na Jonnie TV Shows.
At the end of the two shows, the company made a loss of close to Ksh. 5 million.
In 2019, Sue na Jonnie came to an end and they got to produce another TV show called Ma'Empress.
In 2020 they shot another show called Undercover which they now own all the production rights.
Abel Mutua in Top Comic Show
In 2009, Abel Mutua fought his way up the positions to become the 1st Runners-up in the Top Comic show hosted by Daniel Ndambuki AKA Churchill. The judges were Maina Kageni, Massawe Japanni and Tony Njuguna. Initially, there were about 21,000 young men and women who had gone for the auditions.
According to Abel, the reason he did not clinch the top position to win the pickup prize was because of a story aired in NTV about the hard and challenging life of Geoffrey Oyoo, his fellow contestant, who became the winner.
Abel was considered well-to-do while Oyoo was considered needy and more deserving of the pickup prize.
As fate had it, that prize money (pickup) was to benefit all of them, as the six finalists had discussed. Geoffrey Oyoo had promised to give each of them Ksh. 50,000. And after winning he fulfilled his promise and Abel Mutua was given his share. He used his share to pay for the maternity bill during his daughters birth.
Abel Mutua Residence and Home
Abel lives in Thindigua, Kiambu County
Abel Mutua Car
Abel boasts that he has never driven any other car other than the Mercedes Benz brand. His first car was a maroon stick-shift manual E200 Mercedes Benz and now he has a Mercedes Benz E250.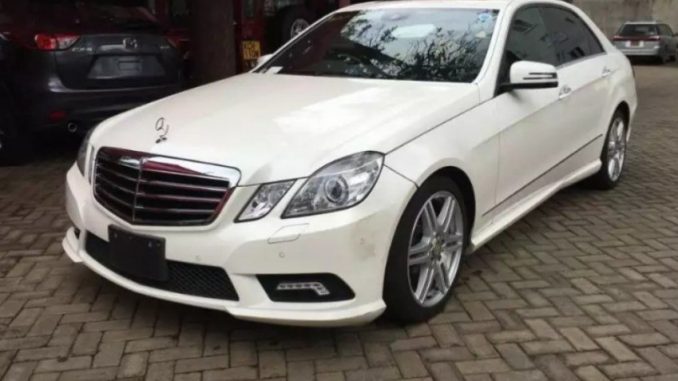 Although in 2014 he bought a VW Golf (Blueberry) and in 2016 he had a Mazda Demio which he had bought for his family.
Abel Mutua Wedding Saga
In 2015, Abel Mutua proposed to his sweetheart Judy Nyawira inside the car while driving along the Eastern Bypass. Yeah, Thats how the proposal went down.
Now the wedding plans started. Initially it was supposed to be a very simple wedding but after word reached the right ears, if not the wrong ears, a super wedding was arranged.
It came to the point of choosing the wedding suit. A name was proposed of a super talented, heavenly tailor called La Giacca. This tailor sugar-coated his expertise and made Abel believe that he was the best thing that happened to him suit-wise.
He requested for Ksh. 60,000 because the materials were to be imported. Abel did not bargain. He was already convinced that the La Giacca guy was trustworthy and professional. This was three months to the wedding.
As time progressed closer to the wedding day, La Giacca started giving some cock and bull stories about the progress of the suit until the very eve of the wedding day.
On the wedding eve, La Giacca came with the suit and told Abel to fit it. It fitted 'somehow' well but the shirt was not the one requested. But being the cunning fox he was, La Giacca requested Abel to give him back the suit so that he could do the final touches on it especially the ironing part which would be done overnight.
I kid you not, Abel and the rest of the groomsmen had to borrow some funny looking coats similar to their wedding theme from friends and neighbours.
Funny enough La Giacca never showed up with the suit! Never! On the wedding day, long after the wedding and photoshoot was over, he sent a delivery guy to deliver the suit at the Church Grounds. La Giacca had no remorse, apology or regret for what he had done.
Abel Mutua Contacts