LILIAN Muli sex scandal: see what she caught doing in a car in Hurlingham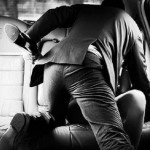 LILIAN Muli sex scandal – Lillian is at it again and this time round, she was busted having s3x at the parking lot of a popular hotel in Hurlingham on Valentine's Day.
Apparently, a popular married Kenyan artist has been squeezing Lillian and on Valentine's Day, they met secretly at the high-end hotel for a date.
After indulging in alcohol, things became too hot  to handle and they headed to the parking lot.
They transformed the hotel's parking lot to a lodging and started drilling each other in the singer's car like no one's business.
The singer's car started shaking metrically, attracting the attention of the hotel's security guards.
When the guards went to check what was going on, they were welcomed by "strange noises" as the s3xy anchor was being drilled by the well built singer.
After realizing that they had been caught out, Lillian bribed the security guards with Ksh 10,000 but one loud-mouthed guard leaked the information to other employees.
It's not the first time that the popular anchor has been busted having s3x in a parking lot.
Sources intimate that Lillian has not been seeing eye to eye with Jared after she busted him getting cosy with another woman in Mombasa.