Linda Ogutu Profile
Linda Ogutu is a News anchor at KTN Kenya of Standard Media Group. She is known for her shapely and curvaceous body which is thought to be the reason why most people prefer to watch KTN news at 9PM.
She was initially working for NTV Kenya of the Nation Media Group before joining KTN.
Linda Ogutu Husband Dennis Mwangeka Mombo attacked
31st October 2015 will forever be embedded on KTN's Anchor, Lindah Oguttu's mind after the most horrific ordeal took place in her life.
On that very day it was reported that her wealthy husband, Dennis Mombo, who happens to be the Managing Director of Mwananchi Microfinance Limited, was brutally tortured and almost faced his demise after being kidnapped by 8 armed gangsters who demanded a whopping ransom of Ksh 20 million.
Dennis Mombo was ambushed and intercepted by the kidnappers as he was headed to his lavish home in Mountain View after which he was taken to an apartment in Kileleshwa.
The eight armed kidnappers robbed him of Ksh 80,000, a wrist watch, a gold ring and an iPhone, before demanding a ransom of Ksh 20 million.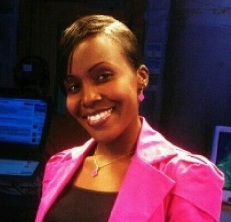 He was held for five hours but was rescued by flying squad officers who arrested the kidnappers and recovered two guns in the apartment.
Ironically, detectives discovered that one of Dennis Mombo's employees colluded with the kidnappers and is alleged to have been communicating with them hours before he was kidnapped.
Linda's boyfriend was arrested on 21st August 2013 after a lot of flashy cars were found in his house and detectives connected him to a car theft syndicate.
It later turned out that Dennis Mombo engages in a Shylock business where he gives people loans and uses their cars as collateral.
Why Curvaceous KTN anchor Linda Ogutu has refused to leave her cheating husband
Curvaceous KTN anchor, Linda Ogutu, has been dating controversial city businessman, Dennis Mwangeka Mombo, who was arrested some time back over car theft allegations but was released after he proved that he has a Shylock business.
Although Dennis is a notorious womanizer who drills anything in a skirt, especially, college ladies, Linda Ogutu won't dump him anytime soon thanks to his immense wealth.
The filthy rich businessman drives top of the range vehicles that are associated with the high and mighty.
During Linda Ogutu's birthday, he surprised her with a Chrysler (see it below) that often leaves heads turning at KTN's offices in Mombasa Road.
See some of Linda Ogutu's boyfriend's guzzlers which he uses to woo college girls.

Linda Ogutu the most Curvaceous and Sultry news anchor in Kenya
In April 2013 one weekend at a club in Nairobi's Westlands area, chaos erupted after the club manager chose to switch to KTN for the 9 p.m. news ….. Reason being, LINDA OGUTU.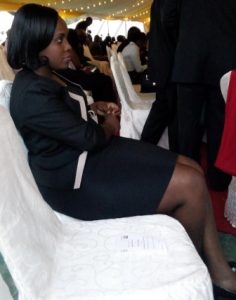 And immediately a reveler demanded that the station be tuned to Citizen because Janet Mbugua was reading the news and what followed was an exchange of words as revelers fought to have their favorite anchor tuned into.
It took the intervention of the management to calm everyone down by switching off all the TV's and demanded that people concentrate on their drinks.
Linda Ogutu Family
Linda Ogutu and Dennis Mombo was blessed with a daughter in 2014.
Linda Ogutu lost her dad in March 2016, She paid tribute to him saying, "Taking the remains of my father back to his people. A life well lived… Salute," Linda Ogutu wrote on her post in reference to her late father mzee Tom Ogutu.
The deceased succumbed to lung cancer on 6th March 2016 at the Meridian Hospital in Nairobi West.
Linda Ogutu Video
Linda Ogutu Contacts
Linkedin: https://ke.linkedin.com/in/linda-ogutu-11759984
Twitter Handle: @lindahoguttu
Twitter site: https://twitter.com/lindahoguttu