To login to the University of Embu Student Portal, Kindly Click here
To login to the University of Embu Elearning Portal, Kindly Click here University of Embu eLearning Portal Login
How to Login to University of Embu student Portal
To login to the University of Embu Student Portal, click HERE
# You will type your student Registration Number then
# Enter your Password
# Click Login
If you have forgotten your University of Embu Student Portal Login Password click HERE
# Then click 'Forgotten your username or password?'
# Reset details will be sent to your email address
If you have forgotten your University of Embu eLearning Portal Login Password click HERE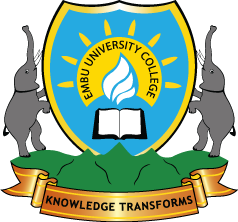 # Then click on the link 'Forgotten your username or password?'
# In the new window, search for your profile using your username or email address.
# If your profile is found, an email with password reset details will be sent to you
KUCCPS Admissions Board has released the University of Embu KUCCPS Admission List for the Year 2019.
Follow these links to view the University of Embu KUCCPS Admission List 2019 and University of Embu KUCCPS Admission Letters 2019 Download.
# Click on this LINK to access the KUCCPS Student Email List
# Look for your name within the list to identify your Email Address.
# Go to https://www.gmail.com and enter your Email Address in full i.e ******@student .embuni.ac.ke and your password
# The default password will be your KCSE index number (i.e 123456789/2015)
# On the first login, you will be required to change your password in order to proceed to your email account.
# You will find in your inbox the email requiring you to download your admission letter and joining instructions.