Francis Nyenze – Biography, Minority Leader, National Assembly, Kenya, MP Kitui West, Kitui County, Education, Wife, Children, Family, Son, Daughters, Age, Political Career, Wealth, Video
KITUI WEST MP and former Minority Leader Francis Nyenze is dead. He passed on at The Nairobi Hospital on 6th December, 2017 according to Kitui Senator Enock Wambua.
Francis Nyenze has been sick for sometime and even during the swearing ceremony in the National Assembly he took his oath while using and oxygen tank.
Family and close friends say he was suffering from cancer of the colon. The body has been moved to Lee Funeral Home in Nairobi.
Francis Nyenze Profile
Francis Nyenze full name is Francis Mwanzia Nyenze.
Francis Nyenze was born on 2nd June, 1957 in Kabati, Kitui West at a place called Kyondoni. He was raised on a very strong christian foundation.
He is currently the Minority Leader in the National Assembly and the MP for Kitui West.
Francis Nyenze education Background
Francis Mwanzia Nyenze went to Kagumo Boys High School in Nyeri County. He then Joined University of Nairobi for his degree in Architecture Design and Development.
Francis Nyenze political Career
He was voted to Parliament for the first time on a KANU ticket in 1997 to represent Kitui West Constituency.
After 1997 elections, he was appointed the Minister for environment by President Moi and after a cabinet reshuffle in 2001 he was taken to the Ministry of Heritage and Sports.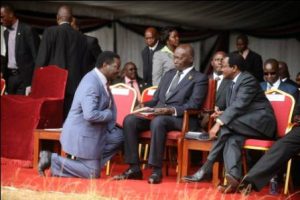 In 2002 he was defeated by Winnie Nyiva Mwendwa for the Kitui West MPs Seat.
In 2013, He won again the Kitui West MPs seat on a wiper ticket under the CORD Coalition.
He was the Chairman of the Water Resources Management Authority (WRMA) and also the National Irrigation Board (NIB) director until 8th October, 2012 when his leadership was revoked.
Francis Mwanzia Nyenze National Assembly minority leader
During the MOU negotiations between CORD, Wiper and FORD Kenya, the post of Minority Leader in the National Assembly was reserved for the Wiper Party.
Nyenze being an old Guard in Politics in Ukambani, easily swayed the vote to his side. He was elected to that position on a CORD ticket Since 17 April 2013.
There has been disquiet in CORD after MPs complained that Nyenze was unable to whip the opposition in parliament in order to counter the charm offensive of the Jubilee coalition in the National Assembly. He however says that Jubilee has the tyranny of Numbers and little can be done to counter that except to walk out of the House in case they are not in agreement with the motion at the floor of the house.
Francis Nyenze family
Mr. Nyenze is married to to one wife and blessed with three children (one boy and two girls).
Francis Nyenze age
Francis Mwanzia Nyenze is 59 years old as at 2016
Francis Nyenze contacts
Twitter: @FNyenze
Mobile No.: 0722859969
Francis Nyenze video