Cord disrupt President Uhuru Kenyatta State of the Nation address
4.05 PM
President Uhuru Kenyatta Says CORD should not take government criticism as a sport. It should be objective
3.55 PM
President asks all of us to pay tribute to our fallen gallant soldiers and Police officers
3.51 PM
Speaker Justin Muturi gives time to those who want to leave parliament to do so. President Uhuru Kenyatta resumes State of The Nation Address
3.47 PM
President Uhuru Kenyatta resumes State of The Nation Address but interrupted again by Simba Arati who is ejected out of Parliament
3.39 PM
Hon. Tom Joseph Kajwang', Gladys Wanga, John Mbandi, Fedrick Otieno Outa, Millie Odhiambo, Senator Moses Kajwang' also thrown out of Parliament Chambers
3:30 PM
Hon. Opiyo Wandayi is thrown out of Parliament Chambers
3.25 PM
The President laughs and requests to sit. The Speaker of the National Assembly Reads the Standing Orders to restrain CORD Members from disrupting the Presidents Speech
3.22 PM
Members of the CORD coalition start to whistle to disrupt President Uhuru Kenyatta from making the State of the Nation Address.
————————————————
The National Assembly Majority leader Aden Duale said intelligence indicates all city Opposition MPs received instructions on the plot on Wednesday night.
Duale said they were asked to ferry 5,000 supporters to cause chaos and mayhem around Parliament.
He also claimed the Opposition plans to have a Parallel State of the Nation address in Kibera.
Duale warned the MPs against executing the plan to "humiliate the President as he must be heard in silence as the duly elected President of Kenya".
He said they had written to Speaker Justin Muturi asking him to strictly implement standing orders if MPs boo at the President.
"Our standing orders are clear that the President must be heard in silence. There will be no question, there will be no comment. We expect the two speakers to ensure orderly conduct as provided for in the standing orders," he said.
Section 24 of the standing orders – the supreme rules that provide for the conduct of House business – state the Presidential address must be heard in silence with no comment or question.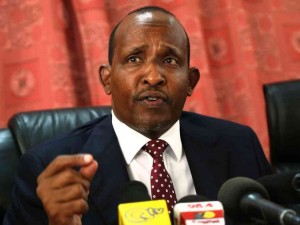 Members of Parliament will then have at most four consecutive sittings to debate the President's speech.
"You give your comment or reservation after you have heard someone. Let those with comments wait to critique the President's speech wait until after recess," said Duale who is also Garissa Town MP.
"The President is not going to Kibera or Garissa. He is coming to Parliament as demanded by the constitution to address duly elected representatives of the people."
He address the press at Parliament buildings accompanied by TNA national chairman and Nominated MP Johnson Sakaja, James Lomenen (Turkana South) and Jude Njomo (Kiambu Town).
Duale said Cord leaders have accused Jubilee of circumventing the constitution yet are trying to flout the law by scheming to disrupt Parliament.
"The President is under obligation to address Parliament once a year as demanded by the constitution. If he does not come he will be in breach of the very constitution," he noted.
"That is grounds for impeachment. Anybody with a contrary opinion is circumventing the very constitution."
Sakaja said: "Cord has a tendency to try to unnecessarily dramatise issues for political expedience. We will not allow anybody to disgrace Parliament and disrespect the Presidency."
"There will be only one President in Kenya at a time. The Speaker must not be lenient. Cord will be embarrassing itself, there will be no embarrassment on the President."
Cord MPs threatened to boycott or disrupt the address by Uhuru saying the head of state had turned the annual event into a useless ritual without substance.
Wiper leader Kalonzo Musyoka earlier asked Uhuru to skip the address saying his government's only "achievements" are corruption, intimidation by the state and tribalism.